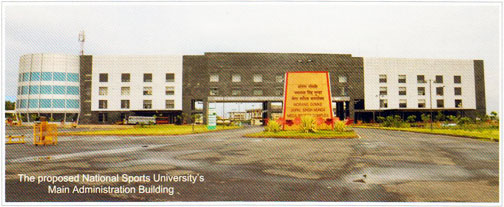 The  National Sports University will be strategically located in Ranchi, Jharkhand, INDIA. The university will offer state-of-the-art facilities to enhance the physical, psychological, spiritual and intellectual development of young sports person. It would serve as key institution for promotion and development of sports in the state.
Objective of the University
To provide professional and academic leadership to other institutions in the field of sports and physical education.
To provide a vast resource pool of highly skilled sports persons at the National & International level.
To take advantage of values conveyed through sports in order to develop knowledge and skills, whereby young people in particular can develop their physical aptitude and readiness through personal effort, and establish social abilities such as teamwork, solidarity, tolerance and fair play in a multicultural framework .
To promote awareness of the positive contribution that voluntary activities make to non-formal education, especially for young people.
To promote the educational value of pupil mobility and exchanges particularly in multicultural environment through the sporting and cultural contacts as part of the university activity.
To encourage the exchange of good practices and highlight the role sport can play in educational system in order to promote the social inclusion of disadvantaged groups.
To create a better balance between intellectual and physical activity in university environment by encouraging sport in university activities.
To develop and promote programs of sports and physical education.
To begin considering issues related to the education of young sportsman and sportswomen taking part in competitive sports.
To create a center of Excellence for each sports.
Key Concept of The National Sports University
 Comprehensive strategic plan for combining sport and education, cooperation between educational and sports institutions, sports as a means of
Social training,
Polishing the Image of sports,
Sports related Academies programs,
Empowering Sports Persons,
Talent Search Programs,
Offer specific training in different sports with emphasis on local sports,
 Offer educational facility from primary school level to PhD research level.
Interact with and involve Sports Association, Sports personalities – local and universal.
Proposed Faculty and Disciplines for the National Sports University
School of Physical Education:
a)      Sports Science
b)      Physical Education
School of Medical and Health Sciences:
a)      Sports Biomechanics
b)      Sports Medicine
c)       Exercise Physiology
d)      Sports Psychology
e)      Sports Anthropometry
f)       Yoga and allied Health Science
School of Sports Managements:
a)      Courses of Bachelor/Masters/P.G. Diploma/PhD level includes Sports Marketing
b)      Management
c)       Event Management
d)      Sports Administration/Sports Officiating
e)      Facilities Management
f)       Sports Production Management
g)      Sports Journalism
h)      Sports Law and Risk Management
i)        Recreation Management
j)        Sports Entrepreneurship
School of Sports Technology:
a)      Infrastructure Management
b)      Sports Marketing Information System
c)       Sports Technology
d)      Sports Administration and Technology
School of Recreational Sports and Wellness:
The specific Sports Academies would come under this school in addition to specific courses on coaching the actual training of sports persons would be under this school.
a)      Physical Activity
b)      Studies
c)       Physical and Health Education
d)      Sports and Outdoor Recreation
e)      Sports an Recreation
f)       Aerobic Dance program
g)      Cheerleading program
h)      Adventure Sports
i)        Extreme Sports
j)        Special Sports
k)      Sports Development
l)        Sports massage course
m)    Ancient and traditional system in wellness programs
n)      Ground Management Course
School of Coaching:
a)      Sports Coaching
b)      Refresher Course in Sports Coaching
c)       Advance Course in Services Coaches
d)      IOC Solidarity Course in Sports
e)      Coaching in different Special Sports
Disciplines:
Archery
Athletics
Badminton
Baseball
Bodybuilding
Canoeing

Chess
Cricket
Diving
Gymnastics
Handball
Hockey

Judo
Kabddi
Table Tennis
Taekwondo Tennis
Weightlifting
Marshal Art
Netball Power

Lifting Rowing
Sailing
Shooting
Softball
Squesh
Swimming